Construction of the New Band Facility
In the summer of 1966, the school constructed a new "recreation center" exclusively dedicated to the recreational needs of the students living in La Salle Hall dormitory. At a cost of $15,000, a building was constructed to provide for ping pong, pool, table games and TV for the boarders. Eventually, arcade-type games and a snack bar were added. In addition, a nine-hole miniature golf (putt-putt) course was built in front of the building, complete with lighting for nighttime use.
The facility, known simply as "the rec hall", served the recreational needs of the boarding students until the summer of 1995, when, once again, the needs of the school dictated change. The overall population of the school was growing, but the population of the boarding program was shrinking. Accordingly, the decision was made to move the "rec hall" into La Salle Hall itself and to move the band hall (which was located on the third floor of Benilde Hall) into the rec hall building, thus allowing us to construct five more classrooms in Benilde Hall. The miniature golf course had also deteriorated and was removed.
The building has served the Marching Wolves well since that time, but, again, needs dictate change. In addition to overall building deterioration, our band programs have been expanding of late and now include concert, jazz, and drum corps components in addition to the renowned Marching Wolves, now almost one hundred members strong! They are deserving of a better facility.
This new facility will provide expanded space, restrooms, acoustics, and aesthetics to our music program. Construction began in October 2020 and will be completed by the end of 2021. Interested in supporting the new building, whose overall cost will approach $2.3 million? We have Naming Opportunities Available!
For more information, call Danielle Lavie at 985-892-3200 ext 1970 or development@stpauls.com or Bro. Ray Bulliard at 985-892-3200 ext 1901 or broray@stpauls.com.
Plans for the new facility
Click below to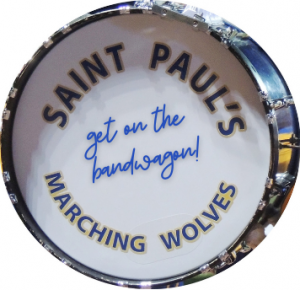 Construction begins with demolition

October 2020

November 2020
January 2021
February 2021
March 2021
April 2021
May 2021
July 2021
September 2021
October 2021