Senior Spotlights – Class of 2019
As the Class of 2019 approaches graduation, we would like to highlight a few Seniors that embody and embrace our Lasallian principles and have stood out among their peers. Their paths will lead them from ivy league to trade schools, military training to community service careers, service missions to collegiate sports team, but they are all taking their Lasallian formation with them into the outside world. Saint Paul's Forevermore!
Our final senior spotlight is a legacy student and the son of faculty member Greg Pellegrini '86. Jack has been very active during his five years at Saint Paul's and credits the school with having a positive impact to his life. He has been a dedicated varsity soccer player for the State Champion Soccer Team and has been a member of the Habitat for Humanity club. Jack says, "The everlasting bonds I have created with the faculty, coaches, and my friends have helped me strive to be the best person I can be."
Jack's faith is strong as he has been active in the Lasallian Youth Organization and is a Eucharistic Minister. Academically, Jack is an honor roll student and is a member of the National Honor Society. Jack states, "My five year experience at Saint Paul's will always hold a special place in my heart. Saint Paul's is truly a great place to grow up!"
Saint Paul's Forevermore.
Jack has a tenured relationship with Saint Paul's as both his father and grandfather are graduates. He enjoys what Saint Paul's has to offer in making him a well rounded person. Jack says, "Saint Paul's has opened doors in every aspect of my life and has allowed me to grow into the person I am today. The people you meet on campus come from all different walks of life and everyone has something to bring to the table."
As a Eucharistic Minister, Jack administers Holy Communion both at school masses and Sunday mass at Saint Paul's. He volunteers as a Student Host and for the Habitat for Humanity club. He lets his creative juices flow as a member of the Guerrilla Wolves multi-media group. He enjoys playing tennis and has been a member of the team for five years. Additionally, Jack is a member of the Student Council.
When asked about his Saint Paul's experience, Jack states "When we come together as a class, it feels like home."
Saint Paul's Forevermore.
Chris' time at St. Paul's has been one of the most salient experiences of his life thus far. He stays very active as a member of the Student Council and Pep Rally Emcee partner. Chris states, "The relationships I have formed and lessons I have learned will go with me for the rest of my life. The brotherhood present is unlike anything I have experienced."
He credits several teachers for making an impact on him: Mrs. Rachel Peak, Coach Roger Bacon, Mr. Austin Ashcraft, and Coach Sean Moser. He says, "The teachers genuinely care for ther students, both about their educations and the men they become." Chris is a member of the National Honor Society, the Key Club, and the Lacrosse team. He is a Eucharistic Minister for the 2018-2019 school year.
Finally, Chris says, "St. Paul's has been challenging, yet fulfilling. I am forever grateful for my time here and the friendships that I will cherish forever. This school has greatly prepared me for the future and whatever trials and tribulations it will be as I leave home next year."
Saint Paul's Forevermore.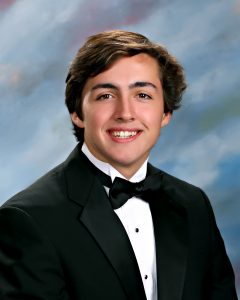 Hyde has a wonderful sense of humor that is evident in his writings for The Paper Wolf student newspaper. He is the creator and writer for the satirical news series "Cry Wolf". But don't let his sense of humor lead you to believe he is not serious about his academics! Hyde is one of eight seniors who has earned the designation of National Merit Finalist. Additionally, he is designated as an AP Scholar and is the Vice President of the National Honor Society. Hyde says, "My time at St. Paul's has been invaluable. The dedicated staff has taught me not only scholastic lessons, but life lessons that I will take with me for the rest of my life."
When not busy with his studies, Hyde enjoys playing Lacrosse and volunteering with the Key Club. Currently, he is co-captain of Lacrosse and is on the way to the State Semi-finals, as of this writing. The Saint Paul's Lacrosse Wolves have been to the State finals eight times in the past nine years. Hyde states, "The diverse and supportive network of clubs and sports has allowed me to explore my interests and find what I'm really passionate about. I've made some of the greatest friendships a person could ask for." He serves as the President of Saint Paul's Key Club which is active in community out-reach.
"Saint Paul's truly is a special place", Hyde says, "and I'm confident in saying that I would be a much different person today without it".
Saint Paul's Forevermore.
Matthew Weimer is the type of student that embodies the five Core Principles of a Lasallian Education.
1) Faith in the Presence of God: As a Eucharistic Minister, Mathew's faith has been strengthened and has prepared him spiritually for life beyond high school. He says, "My faith in God has made me a better person".
2) Quality Education: Matthew is a member of the National Society, Mu Alpha Theta, and the 30+ Club. He earned a 36 (perfect score) on the English portion of the ACT standardized test. He states, "The rigorous courses and caring teachers have taught me that through hard work and a positive mindset that anything is possible."
3) Inclusive Community: He has participated in numerous athletic teams throughout his career at SPS. From cross country and track to soccer for five years. He is a First Team All-District Soccer player and is part of the 2019 State Division I Soccer Champions. Matthew says, "Whether in the classroom or on the field, strong morals and true brotherhood can be found.
4) Concern for the Poor & Social Justice: As a member of the Habitat for Humanity and Key Clubs, Matthew has made a difference in the lives of those less fortunate. He also has worked on campus as a Student Host.
5) Respect for all Persons: Matthew has demonstrated his compassion for others as a member of the Lasallian Youth Leaders organization. His willingness to help others is evident outside of school as he is a certified lifeguard.
Finally Matthew states, "The advice and lessons that I have learned from my teachers, coaches, and brothers here have prepared me well for my future."
Saint Paul's Forevermore.
Stephen's accomplishments are indicative of the strong academic curriculum at Saint Paul's School. He is one of the few who has earned the "Finalist" designation as part of the National Merit Scholarship Program. In addition, he has been a member of the National Honor Society and the Mu Alpha Theta clubs. He currently holds the positions of Treasurer in the NHS and Co-President of the MAO. Stephen states, "The rich environment Saint Paul's has provided me has greatly prepared me for my time beyond high school. The focus on academics and the various extracurricular activities at Saint Paul's have shaped me into the man I am today."
Stephen has also been active in the recently revived Quiz Bowl team. He serves as the Senior Captain and is the recipient of the Quiz Bowl Captain's Scholarship. During his years in Saint Paul's AFJROTC program, Stephen achieved the title of Color Guard Commander.
Stephen says, "The community of brotherhood at Saint Paul's is easily noticed, and I'm proud to say I've met some and befriended some of the greatest people I've ever known."
Saint Paul's Forevermore.
This multi-talented senior has called Hunter Stadium home as a four year letterman football player and a two year letterman track and field runner. But more importantly is his deep faith in God. Evan demonstrates this as being an active Eucharistic Minister for the 2018-2019 school year. Evan says, "My relationship with God has grown tremendously during these past five years!"
Outside of Saint Paul's, Evan is the group leader for the Mary Queen of Peace 412 Youth Group and was recently selected as the Outstanding Youth of the year by Mary Queen of Peace Catholic Church.
As for his academics, Evan has achieved Honor Roll status many times. Evan states, "The support I have received from the faculty, staff, and all my coaches throughout my time here has been incredible. They have readied me for the next next step of my life." Evan goes on to say, "The friends I have made here are people I will be friends with for the rest of my life. The people you surround yourself with truly shape you into the person you are. Attending Saint Paul's was the greatest decision I have ever made!"
Saint Paul's Forevermore.
Many of the previous students in this series commented about a Saint Paul's education allowing them the opportunity to try new things. Quinn's tenure at Saint Paul's is another example of this very thing. His love of music has grown and developed within the school's framework culminating as the leader of the trumpet section of the Marching Wolves, a member of the Liturgical Band, and as a significant role in the recent musical play, Newsies. In addition to his participating in the Arts, Quinn maintains honor roll student status, volunteers with the Habitat for Humanity club, and has been nominated for altar server of the year for Our Lady of the Lake parish.
Quinn says "The community of Saint Paul's has given me the opportunity to meet wonderful people that I call my closest friends. They've inspired me to keep pulling my own weight and then some." He goes on the say, "The teachers are always there to assist you outside of the classrooms and they all truly care about your education and your well being."
Saint Paul's Forevermore.
Not only is Jordan an award winning journalist, but he's a beast on the football team too! Jordan has been a member of The Paper Wolf, Saint Paul's online newspaper, for five years and has refined his photography skills as well. He has played linebacker on the football team but finished his SPS football career playing nose guard for the Wolves. He enjoys Youth and Government and loves to listen to music.
Jordan states, "I can't put into words how much Saint Paul's has done for me. My experience here is priceless and the bond I have formed with my peers is unbreakable." He goes on to say, "I know I have been prepared for the rest of my life with advice and practices that you can't get anywhere else."
Saint Paul's Forevermore.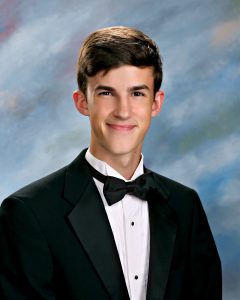 Andrew is a multi talented and exceptional student and is extremely active in a multitude of extra-curriculars. He is a National Merit Scholar and has a perfect score of 36 on the individual tests of English, Reading, and Science on the ACT standardized test. He is an AP Scholar with Distinction and the Regional Science Fair Overall Winner. He was heavily involved in the FIRST Robotics club and is a team mentor in the VEX Robotics club.
Andrew has held numerous offices at Saint Paul's including President of the National Honor Society, Vice President of the Mu Alpha Theta Society, Treasurer of the HOSA (future healthcare professionals) club, and an officer of The Mayor's Covington Youth Leadership Council (CYLC). In his spare time, Andrew is the Director's Assistant and the trombone section leader of Saint Paul's Marching Wolves band and has volunteered over 100 hours of time for the school year.
When asked about his experiences at Saint Paul's, Andrew states: "Saint Paul's has taught me more than I could ever thank it for. Saint Paul's has taught me how to be a strong, dedicated, man of God who works hard to get things done that help others. Experiences in and out of the classroom with teachers and mentors that care about your individual needs allowed me to soar." He goes on to say, "To my younger peers, remember to always stay involved, because if you are going home every day at 3:15, you are not getting the full Saint Paul's experience."
Saint Paul's Forevermore.
Michael's time at Saint Paul's has prepared him in numerous ways for the rest of his life. Michael states, "The attention to academic excellence has prepared me so well for college!" Michael has played for both the football and lacrosse teams. He was also selected as captain for both of those teams! As a member of these teams, his sense of brotherhood has deepened and being part of a team has taught him how to be disciplined.
Michael was awarded the Graham Jordan Scholarship last year. In addition to his active athletic life, Michael is a member of the Mu Alpha Theta and National Honors Society clubs. But most importantly, as a Eucharistic Minister, Michael states that "Saint Paul's has taught me about the importance of having faith in God".
Saint Paul's Forevermore.
As the eldest of three boys currently enrolled at Saint Paul's School, Ross sets the bar very high. Academically, he is a National Merit Scholar with a 35 ACT Composite score, a 36 Superscore, and a GPA of 4.46. When not studying, he leads our Marching Wolves as the senior drum major and works on his strength as a member of the Powerlifting Team. His faith is strong as a dedicated servant as a Eucharistic Minister, Student Host, and a Lasallian Youth Leader.
Ross states: "While everything about Saint Paul's is truly extraordinary and unique, the teachers and Christian Brothers of Saint Paul's are what make it home for so many students. Every teacher I have had over the past five years has taken a genuine interest in me and my education. I have developed lasting relationships with many of my teachers that I will cherish in college and beyond. Saint Paul's will always have a special place in my heart because of the teachers that have shown me what it means to be a student, friend, and man of God."
Saint Paul's Forevermore.
As a student in the entrepreneurship program, Trevor has been part of the development and launch of the school coffee shop. When not fixing coffee, you may see Trevor running around the neighborhood as part of the Cross Country Team or swinging a broom as part of the Quidditch Team. Trevor is a member of the National Honors Society and enjoys belonging to the 30+ club. The 30+ clubs includes students who have scored a 30 or above on the standardized ACT college entrance test. In addition, Trevor is dedicated to being a Eucharistic Minister.
Trevor states: "I am grateful for the well rounded education that Saint Paul's has provided me and I will treasure my five years as part of the pack!"
Saint Paul's Forevermore.
Andrew is a shining example of a Saint Paul's educated student. Academically, he regularly earns honor roll accolades and is engaged in many extracurricular activities including Extraordinary Ministers of Holy Communion, Lasallian Youth Leaders, Student Hosts, basketball, and track and field.
Andrew is a living embodiment of "Rise Up O Man of God." When asked about his time at Saint Paul's, he states "One of the things I owe Saint Paul's the world for is deepening my faith in God through the community of people that have supported me so much over the years. Being an Extraordinary Minister of Holy Communion has definitely been a highlight of that journey as well. Saint Paul's has given me the chance to be a man of God in so many ways and meet so many great people."
Andrew continues, "I am forever in debt (the good kind) with this wonderful school and beyond blessed to be where I am today thanks to Saint Paul's."
Saint Paul's Forevermore.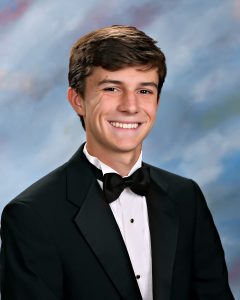 Luke is a multi-talented individual! He excels academically as evidenced by the 35 composite score he earned on the ACT along with his involvement in the First Robotics Club. As a member of the Indoor and Outdoor Track and Cross Country teams, Luke demonstrates his athletic prowess. Rounding out the talents of this young Renaissance man is the creative range Luke exhibits performing in the Marian Player's production of Godspell and dancing as part of the Latin Dance Club.
When asked how his time at Saint Paul's has helped shaped him and prepared him for the next journey, he states, "I have no other words that can describe my Saint Paul's experience other than 'simply incredible.' Through the classroom, cross country, indoor and outdoor track, theater, and even daily experiences, I have made memories to last a lifetime."
Luke has a long standing history with Saint Paul's: his father, John, is a graduate of the class of 1991; several uncles have graduated; his two aunts, Mrs. Claire Coutrado and Mrs. Suzie Slade, are both staff members at the school; and several first cousins have graduated, as well. When speaking of his high school experience, Luke writes, "I have made enough memories to last a lifetime and when I'm an old man with a few years left to live, I will be able to look back on my days at SPS and think, 'Man, those were the days.'"
His word of advice? "Take nothing for granted. It flies by."
Saint Paul's Forevermore.
Christopher Wilson is extremely involved on campus. When asked how Saint Paul's has prepared him for the next phase of his academic career, Christopher states "Because of the wide ranging and challenging courses offered, I have access to a number of colleges and universities that I could have never gotten into without the help of my teachers and counselors. I have been able to join a number of clubs and organizations which have helped me expand my interests and become a better person."
Christopher is currently the Vice President of Student Council, a Student Host Leader, and you will frequently see him at Sunday mass as a Eucharistic Minister. Chris also mentors other students as a Lasallian Youth Leader when he isn't teeing up on the green as a senior member of the golf team. Christopher was recently named as a National Merit Semi-Finalist in the National Merit Scholarship Program as well as a National Merit Scholar by the National Hispanic Recognition Program.
Chris says "I cannot thank Saint Paul's enough for the impact that they have had on my life. Live Jesus in our hearst…forever!"
St. Paul's FOREVERMORE!
Senior Grant Hughes says he could name a million things he's gained from his years at Saint Paul's School, including the value of hard work, the importance of faith, and the gift of lifelong friends. He knows all graduates miss being here, but says he will miss EVERYTHING about St. Paul's. This fall Grant plans to study Business at Samford University on the Presidential Scholarship and get involved in several extra-curricular activities to further grow his faith, which grew exponentially while studying at Saint Paul's School. "Faith in the Presence of God has shaped me the most out of the Lasallian Core Principles. If we are all able to achieve this, the rest will follow!"
As the team captain for the wrestling team, Coach Ketelsen says that Grant was a consummate leader both on and off the mat. He led every practice, supported the coaching staff, helped develop the younger team members, and had 'players only' meetings with students who were struggling in wrestling or in school. "He won 4 individual championships and was in the finals of 3 more. But more than that, he was THE example, THE ANCHOR, and he always answered the call to help, gave everything he had for the team, and never let us down," says Ketelsen.
Grant says, "I am living the Lasallian Mission by striving to carry myself in a happy mindset while imitating Christ every day." We know Grant will continue to shine his light of faith as an example for others to follow on his journey. We wish him much success and happiness.
St. Paul's FOREVERMORE!
The best description of Senior Kyle Schmitt would be Renaissance Man. Winner of the C.L. Marcotte Award for best-student athlete and the Christian Brothers' Provincial Award for the student who demonstrates his personal best in using the talents given to him by God, Kyle encompasses all of the qualities we encourage all of our students to find within themselves, including a strong work ethic, compassion, dedication, loyalty, and faith.
When Kyle isn't working towards success in the classroom or on the soccer field, he is interning with Greenleaf Lawson Architects and helping with the design and renovation of Benilde Hall. Counselor Renee Miller says, "Despite Kyle's ultra-busy schedule, he will still find time to check in on some of the underclassmen to make sure they are doing well here at St. Paul's School because he really cares about their journey too."
Kyle will be attending Louisiana State University to study architecture and construction management. When asked what he treasures most about his time at St. Paul's, he replied, "I am appreciative to Saint Paul's for challenging me and providing a myriad of opportunities, but most importantly for their guiding hand to help form me as a Lasallian Man: a Man of Faith, a Man of Service, and a Man for Others."
We know Kyle will find success on his journey as he continues to live out our Lasallian mission. St. Paul's FOREVERMORE!
After graduation Forge will study either bio-engineering or biochemistry at LSU in Baton Rouge on a LSU Stamps scholarship, which not only covers full cost of attendance but also a research and study abroad stipend. According to his teachers, "Forge blends an inexhaustible curiosity with an incisive intellect, using both to investigate things in a determined and energetic fashion that few can match," and "Forge has an insatiable thirst for knowledge. He loves learning about new things and soaks everything up like a sponge." It's no wonder Forge was named one of the valedictorians of his class.
Forge says he is passionate about the Lasallian principle of concern for the poor and social justice, which is one of the motivations for him to do research in college and potentially help those in need. "We tend to think about this principle as charity and service, but beyond that it's standing up for what is right. I think that's really important," says Forge. "At Saint Paul's, I learned how to be part of something greater than myself."
Forge also enjoyed growing up together and by association with students and faculty. He was most influenced by science teacher Bradley Bessetti, who "was able to spark my interest in biology, which has contributed to my choice in major, through his passionate and interesting presentation of concepts, the personal relationship he formed with his class, and the study skills his class taught me without which I wouldn't have made it through high school," says Forge.
The future is bright for Forge and we know his success will be many as he continues to live out our Lasallian mission. St. Paul's FOREVERMORE!
Student Council Vice President Carson Caulfield will be attending Samford University in the fall to study both Mass Communications and Biology. "I chose Samford University because of the inclusive community that is evident on their campus, much like it is on our campus. I tend to incorporate the Lasallian Mission into my life as often as I can, putting my service to God, and God's plan for my life, in the driver's seat."
Carson says that the fine men of the religion department have shaped him as a person while at St. Paul's. "I remember classes when Carson would start making the most outlandish and hilarious jokes one minute, and in the next he would make incredibly insightful comments about the subject we were discussing. He has an innate and rare ability to exercise his incredible wit and sense of humor, and then easily switch gears and put those gifts to use in a profoundly intellectual way," says teacher Roger Bacon.
Carson has been awarded the Al Neuharth Free Spirit Scholarship, which is given to one single student journalist from each state every year. "Carson has easily been the most prolific student journalist that I have worked with," says Christi Simoneaux. "His leadership and passion for journalism and 'all things St. Paul's' has helped our news team expand our coverage in new and interesting ways. His desire to continually raise the bar has made us all better at what we do."
We know Carson will continue to shine his light on the guiding principles of our Lasallian mission as he continues his journey. St. Paul's FOREVERMORE!
Few young men have both the talent and the inclination for service, but it is obvious–and endlessly admirable–that honor graduate Hanson Stuckey has both. According to senior religion teacher Roger Bacon, "Hanson possesses a keen and incisive intellect, paired with a genuine curiosity and desire to learn and wisdom beyond his years; however, he has nobly chosen to put his academic and personal advancement on hold to make use of those God-given gifts in the service of others."
After he graduates, instead of going to college, Hanson is moving to India to volunteer with the Missionaries of Charity–the order of sisters started by Mother Theresa. After that year, he will attend Boise State to continue his education. When asked about his time at St. Paul's School, Hanson replies, "Throughout my time at St. Paul's I learned many valuable lessons that prepared me to be confident in taking this journey. One thing that I will forever miss about St. Paul's is the brotherhood I shared with my classmates. Although it may sound cheesy, I can honestly say that I loved everyone in my grade and in the grades surrounding mine. Not many people can say that about their high school."
We are so proud of Hanson and his passion for social justice, inclusive community, and concern for the poor. We pray for his continued success as he lives out our Lasallian mission on his journey.
St. Paul's FOREVERMORE!
Christian Harrison is an all-around standout student. Next year he will be an Honors Fellow at Elon University in North Carolina. Christian was very engaged during his time at St. Paul's, holding an internship at the District Attorney's Office, playing on the basketball team, serving as Eucharistic Minister, and was a member of several honor organizations and various clubs, all while keeping his GPA above a 4.00 and earning a 31 composite on the ACT.
According to his teachers, Christian has a keen interest in what is going on in the world. He was always ready to discuss current events, nationally as well as internationally, trying to gather as much information as he could before coming to his own conclusions, but in a way that was open to hearing opinions of those whose beliefs or experiences differed from his own. He truly embodies what it means to be a Lasallian and making the world better together and by association.
We pray for Christian's continued success as he continues to be a beacon of faith and hope on his journey. St. Paul's FOREVERMORE!
Meet Matthew Borgatti, a standout member of the Class of 2018 that will attend LSU in the fall to study mechanical engineering. Matthew's resume reads like a Who's Who among high school students. He is one of the class valedictorians, has a 4.5 GPA, scored a 34 on the ACT exam and was recently named a National Merit Finalist. He also played on the golf team during his time at St. Paul's, served as a Eucharistic minister during his senior year, and was very involved in our school community. Matthew was also nominated by St. Paul's as our Archdiocesan Student of the Year.
According to one of our school counselors, "What really distinguishes Matthew from others is his sense of wonder. He has a unique sense of optimism about everyone around him. He has the ability to see the possibilities that are in the world around him and appreciates his opportunity to make a difference. He is a humble young man who, despite his youth, really understands his ability to facilitate a change in his world. Gandhi tells us to 'Be the change we want to see in the world!' Matthew LIVES that axiom."
We pray for Matthew's continued success and are excited about his passion for changing the world through our Lasallian mission. St. Paul's FOREVERMORE!
For the past four years, if you saw the Marching Wolves going down Canal Street or performing on the football field, you probably saw Landon Chambliss playing his trumpet and dancing to the music. Landon credits Saint Paul's and the band for teaching him "to put 110% effort into everything you do" and bringing him closer to his faith. According to Band Director Andrew Moran, "Landon is kind and soft spoken but also has a quiet strength about him that is palpable when you are in his presence."
According to his teachers, Landon not only willingly receives the quality education that St. Paul's provides, but he seeks to go beyond the surface and explore new depths of understanding through engaging in meaningful conversation with his peers as well as asking the poignant questions that others may hesitate to ask in the classroom. Whenever asked about his plans for the future, Landon states, "I don't have the slightest idea what I want to do, but I know the lessons I learned at Saint Paul's and God will lead me towards the right decision." That's our core principle of Faith in Presence of God in action.
Next year, Landon will be attending Southeastern Louisiana University on scholarship and plans on majoring in social studies education. We wish him continued success as he continues on his journey. St. Paul's FOREVERMORE!
Meet Colin Quinlan, whose commitment to his faith makes his college decision a slam dunk. According to Colin, "After graduation, I plan to attend Franciscan University of Steubenville, major in English, and play basketball." Colin believes that his time at St. Paul's has helped him deepen his Catholic faith and develop his work ethic more than he could have ever imagined possible. What does Colin say about leaving St. Paul's for Steubenville, Ohio? "I will certainly miss the positive environment and brotherhood of St. Paul's once I graduate."
Colin is also an exemplary student athlete. Not only does Colin perform at a high level on the basketball court, he works hard to maintain a 4.12 GPA in the classroom.
We wish Colin the best on his journey and hope he knows he will always be part of the brotherhood that is so vital to our alumni in continuing to live out the Lasallian mission of St. Paul's School. St. Paul's FOREVERMORE!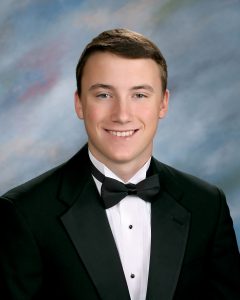 How many students can say their career began two days after taking their last exam at St. Paul's School?
Patrick Guidry can because that's when he began training to become a professional firefighter as a member of St Tammany Parish's most recent class of recruits. He will graduate from firefighter school just in time to begin the fall semester at LSU on a scholarship. Patrick plans to major in Emergency Preparedness, and, while in college, work weekends and holidays for the fire department. According to Patrick, "My desire to become a firefighter began when I was a child and has constantly been reinforced by the Lasallian principles that I learned at St. Paul's, especially concern for those in need and respect for all persons. " Patrick has received the Order of St. La Salle Service Award every year he has been enrolled at St. Paul's, due in large part to his volunteer service with the City of Covington Fire Department. Patrick reports, "I will have very little free time this summer but feel blessed to be able to follow my dream."
On a Shadow Day a year or two ago, a group was touring the counseling office when Patrick walked through. The senior in charge immediately interrupted what he was saying to point out to his group, "You are in the presence of a real hero." He proceeded to explain to the young fellows that as a St. Paul's student, Patrick worked for the fire department. He told them how Patrick volunteered his time and energies on a weekly basis to help others. The respect and admiration this upperclassman showed for Patrick was evident and quickly spread to the faces of his young charges. Patrick, noticeably blushing, accepted this praise silently and humbly.
We are so proud of Patrick and wish him well on his journey. St. Paul's FOREVERMORE!