Environmental Science
In early September of 2016, our Environmental Science class began work on our wetland project. This was a project we undertook as a class with a simple goal of building a wetland. Now, our first task was to find a location and source of flowing water. We decided to place our site behind the construction of a new gym facility in the process of being built. We started with a big empty mud hole with no runoff access of any sort. Using the gym AC runoff as a source of moving water, we decided to get serious. Our school's landscape manager, Linda Trahan, suggested a few different plant species that would complement our developing wetland. This past November and December our class began planting trees near and around our soon to be wetland. The process of planting a tree is far more extensive than digging a hole and putting a sapling in it. We were able to plant an average of two to three trees a week throughout the last two months of 2015. We planted a few different types of trees and are planning on planting some flowers for the butterflies.
Pictured above left to right are: Thomas Schmidt, Alex Nunez, Connor Elliot, Patrick Napier, Mrs. Ann Pfalzgraf, science teacher, Kevin Baker, Chase Dominguez, Stephen Rowell, Johnny Courere, Austin Behlar, Steele Fleming, and Mrs. Linda Trahan, horticultural expert.
Butterfly Project Progress
In February, the students worked to build a bed for the monarch butterfly garden in preparation for milk weed and other nectar producing plants.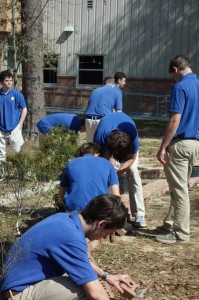 Environmental Field Trip
On Thursday, March 3, 2016, the environmental science class visited the Gulf Coast Research Lab (GCRL) in Pascagoula, Mississippi. The students gathered water samples in the Pascagoula River Water Shed in preparation for testing. They tested the water for dissolved oxygen, salinity and turbidity. This testing helps determine salt water intrusion due to climate changes and subsidence effects on coastal wetlands.
Johnny Crouere and Kevin Baker work with Aaron Lammey of the GCRL.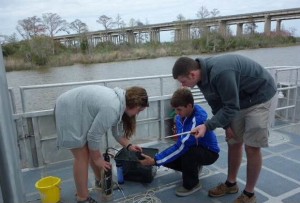 University of Southern Mississippi student and Saint Paul's students Austin Behlar and Chase Dominguez use sensors to dissolve oxygen.
Butterfly Garden Complete
In April, the Butterfly Garden has been completed. Since we have had a very rainy month, our plants are growing quite quickly. Our Asclepsia tuberosa has grown and is filling out nicely. Our Coreopsis lanceolata is blooming…hopefully we will see its yellow flowers soon! Click HERE for an informational video.